I really love the effects you can achieve with encaustic wax.
I have been wanting to do something with all my old family photos and this was the first result: : Entitled Les Trois Soeurs, my mother and her two sisters all of whom had a great influence on me.  I also used a photo of my father and of me as a child on the beach.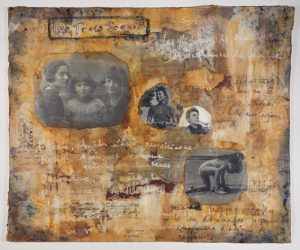 For this Brighton seascape, I embedded a photo I had taken of the Old Pier, layered over pages of poetry with bits of sari ribbon, lace shells and a piece of seaweed to give the texture of waves one the shoreline.