I had the good fortune to experience a week of Summer School at West Dean, attending a course on Shibori and Indigo dyeing with Rob Jones, of Romor Designs, who is strongly influenced by Japanese techniques in the art, is a wonderful teacher and gave us so much information.
Here are a few of my better samples:
This is Makiage, stitched outline, bound centre, here Guntai, where an outline is drawn, stitched across and pulled up to bind as you go, 2 dips: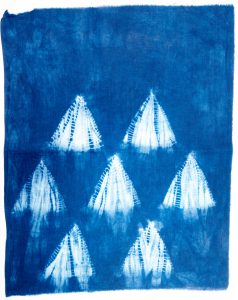 Yanagi, willow pattern.  Bound circles are tied, then the piece is bound around a flexible core on a stand.  3 dips: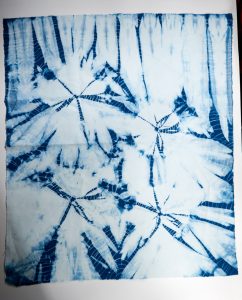 Two examples of Arashi, where the fabric is pleated and bound and compressed around a pole, 4 dips: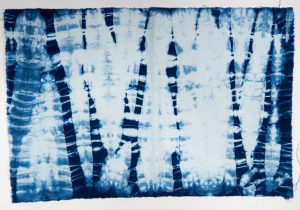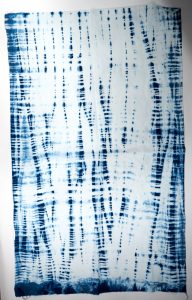 Hinode, sunrise, where circles are stitched on a fold in a row, the fabric manipulated so most of it outside the circles is underneath and remains white in the dyeing process. The stitched threads are pulled tight and the piece is bound to a core, 5 dips: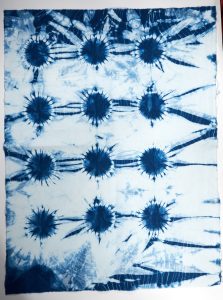 Itajime.  The cloth was folded into half, the again along one way, then into equilateral triangles.  Three little stitches were made into the centre of each side and the piece then dyed, 4 dips: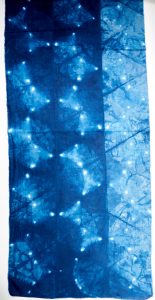 Itajime. The square piece of fabric was folded into triangles, two clamps used, a small triangle that overlapped the edges at the centre and a star towards the edge, 4 dips: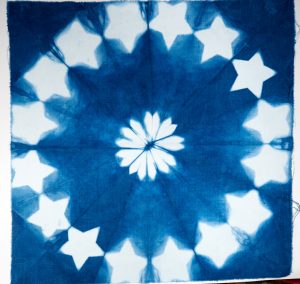 Ages ago on Pinterest I found an beautiful image of a spiderweb bound piece called Dandelions in the Night.  I could not find any information about it, but it inspired this piece.  I used a piece of linen pre dyed with weld, but which came out a creamy slightly marbled colour and then stitched and bound the motifs, with just a 30 second dip in the indigo vat.  I am quite pleased with it, but this is only a small piece of cloth, so I want to try it again larger.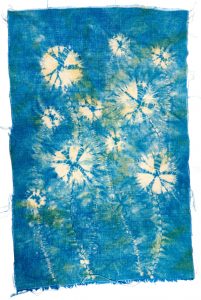 Two marbled pieces, both with a stitched and bound spiderweb. The first piece had been lightly marbled first, crumpled and placed in a mesh bag before going in the vat, then the process repeated after the binding.  The send one was bound before any dyeing.  I felt there was too much white within the circle, so crumpled it again and just gave that a quick dip.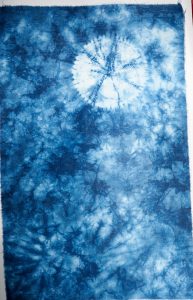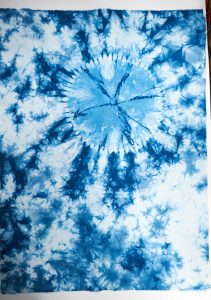 Some intricate stitching, combining orinui, stitched along the fold  and makinui, stitch twisted over the fold: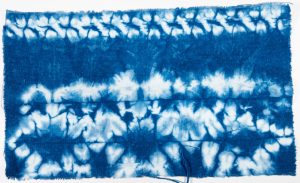 There was a party on the Thursday evening the theme being science fiction, so Rob had the idea that we should each represent a planet and design a tote bag to represent that planet.  I was given Venus and wanted to show its pentagram-like orbit around the Sun as viewed from the Earth, but hugely simplified: