Having watched various Youtube videos on eco printing papers, I've been trying a different technique.  I soaked watercolour and mixed media papers in aluminium acetate and plant material in alum, though I forgot to do the plant material once and it didn't seem to make any difference.  I secured the layers of paper between two round grids with G clamps, but quite loose.  I added a little vinegar to the boiling water and a good teaspoon Rit blue dye.  I am really pleased with the results.  Some of the pages I made into a book, some I used for cards and I still have plenty more sheets to do something with.   Plant material used :  leaves and shoots of walnut, continus, black elderberry, mountain ash, acer, St John's wort shoots with flowers just opening and rose shoots with a red flower (the cover).  I also used some French marigold and anthemis tinctoria  flowers plus some autumn rose and continus leaves that had been in the freezer.
Here are some of the pages. ( I had to use a stick to hold some of them down).
Book cover :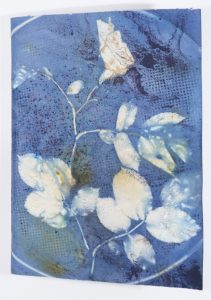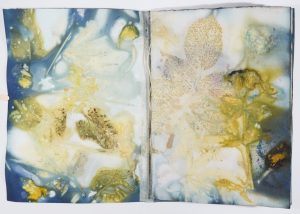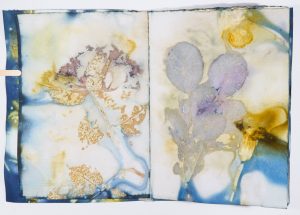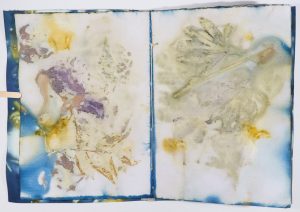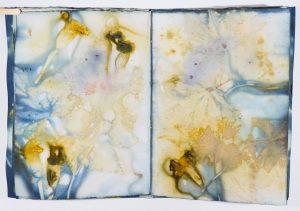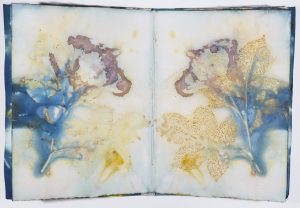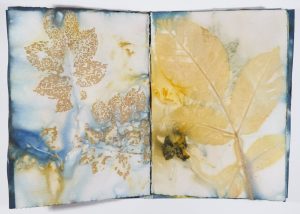 Back cover :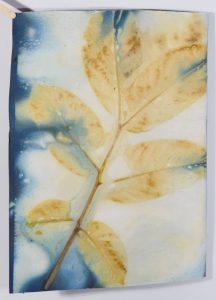 Two cards :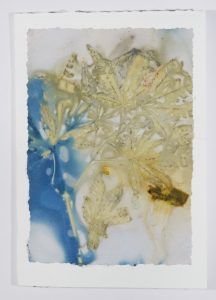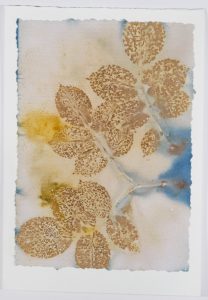 July 2008 :
Some more prints.  I've managed to get the blue colour to seep in more by clamping the papers even more loosely.  The dark flower is an almost black hollyhock and there are also pelargonium flowers, achillea, love in the mist, French marigold, continus leaves, artemisia,  crocosmia Lucifer.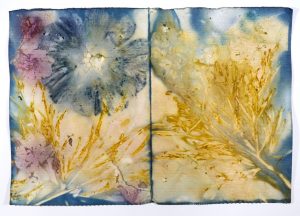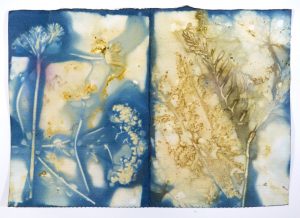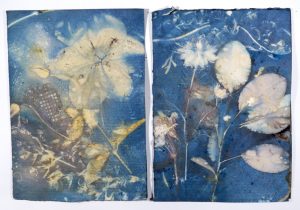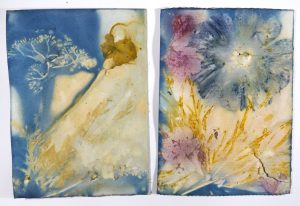 These are two less successful prints, so I have added some drawing and colour.