This final module introduces the techniques of stencilling, the use of pastels,  pockets, extensions as well as ideas of how to put everything together.
After a wash of colour on  the page, I used my provençal jug as a pocket to hold the card cutouts I used for rubbings.  I like the way the lettering shows, especially on the spoon I eat my cereal with.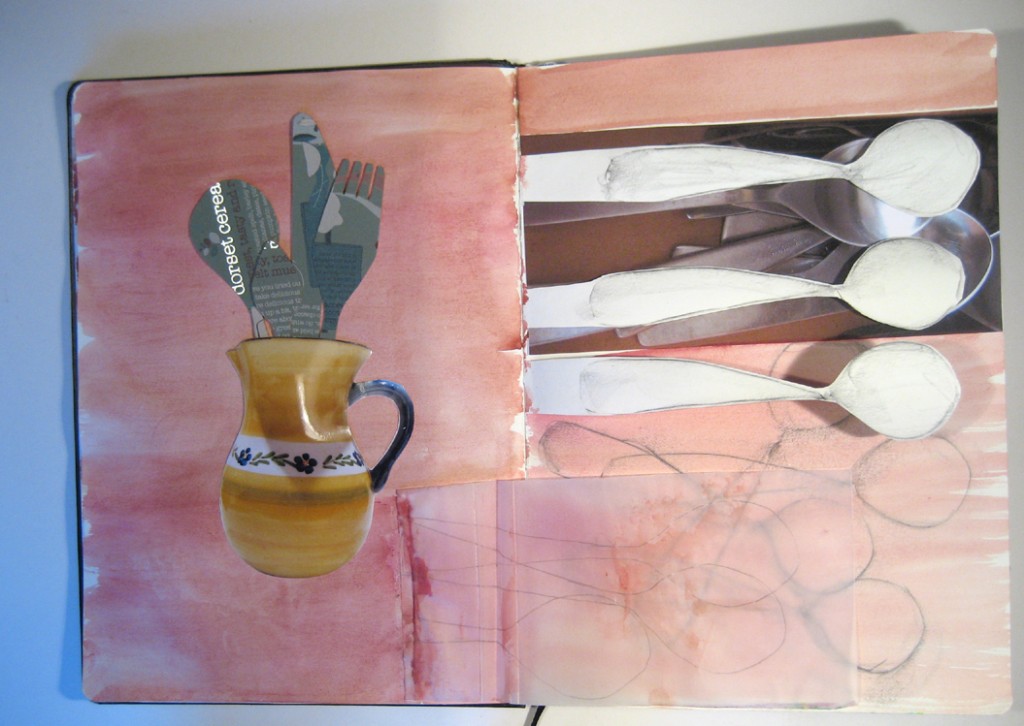 Tree landscapes.
First page
Stencil, both ways (within and outside the shape) using pastels gently rubbed from the cutout onto the page, over colour wash –  trees and leaves. Collaged leaf 'footprints' which go over the page when the flap is closed.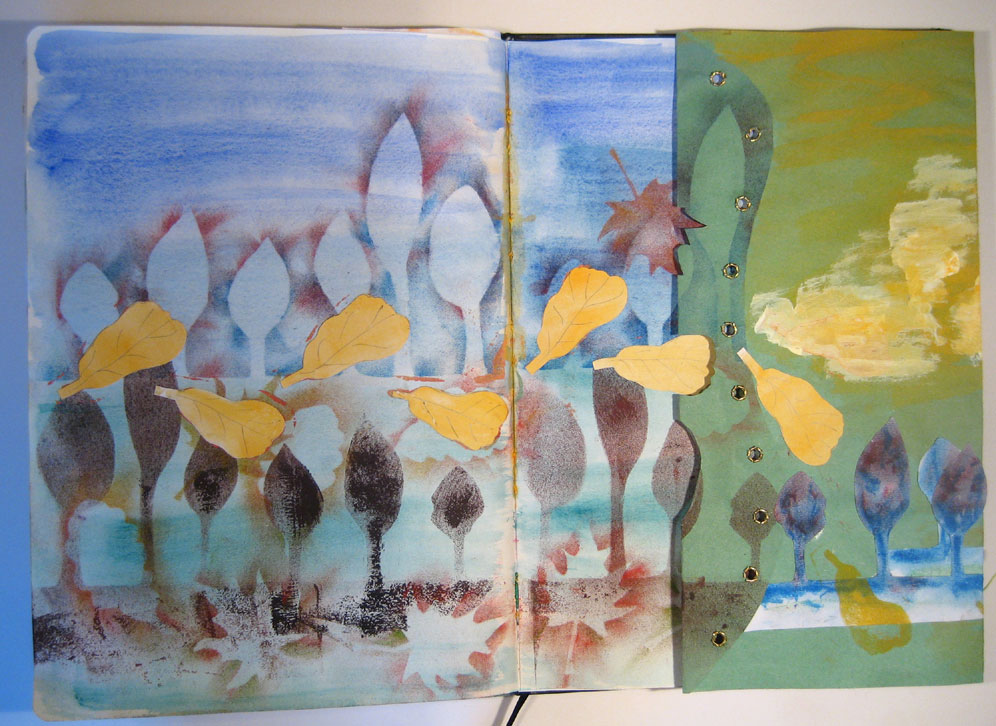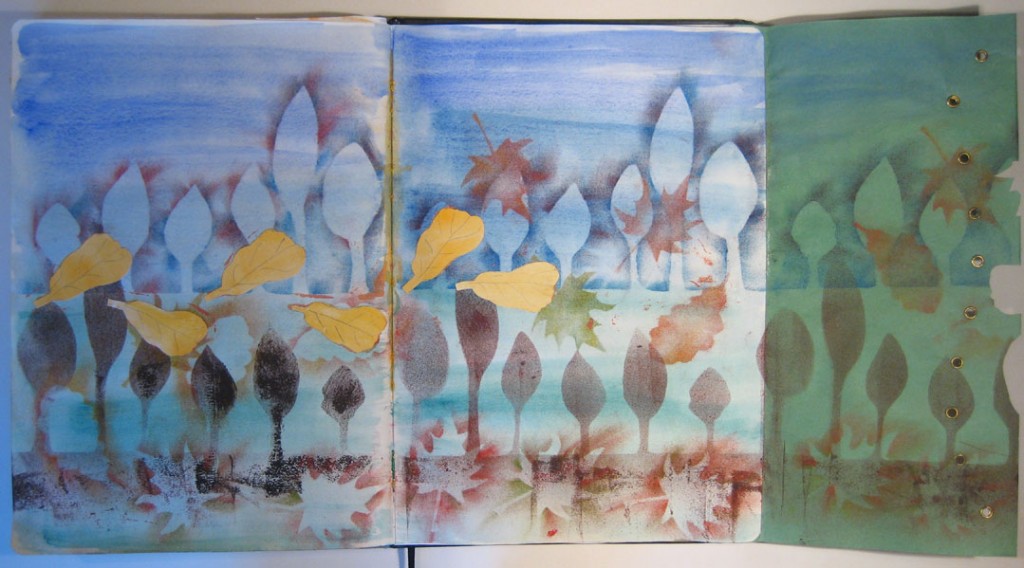 Second Page
I liked the remaining tree shapes so cut more out, coloured them with more pastel and used them as collage.  I initially had more leaf prints over the head of the trees but this looked wrong, hence the gesso and more paint. I made a sponge block similar in shape to the leaf collage and faded out this print along the bottom of the page.  The collaged leaf (used as a stencil on the previous page) leads the eye to the right.  I used the piece of green paper left over from cutting the flap to echo this shape.  There is a small arrow shape cut into the border bottom right (not very visible in the photo) to lead you into the next page.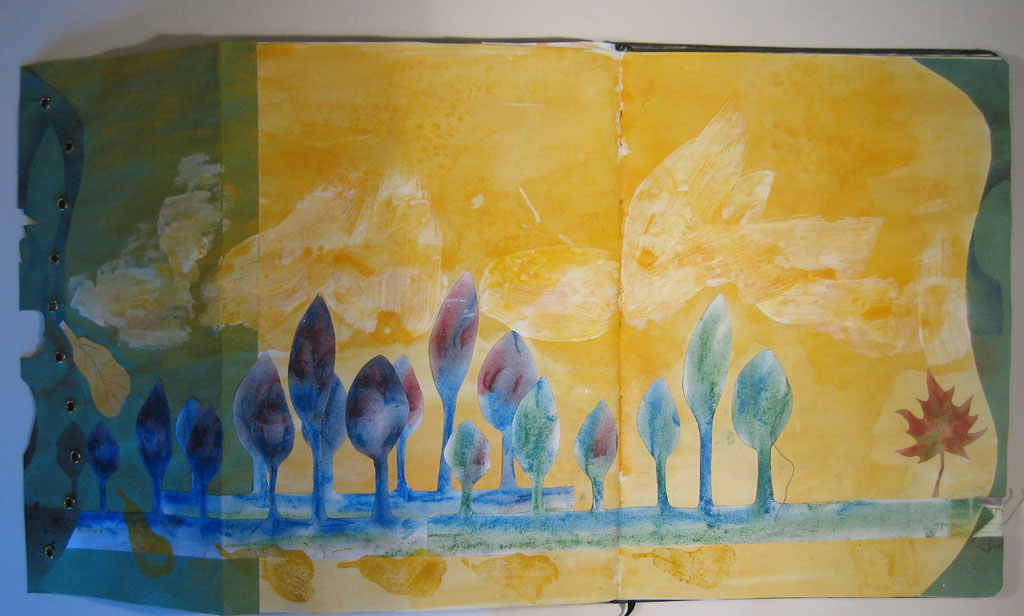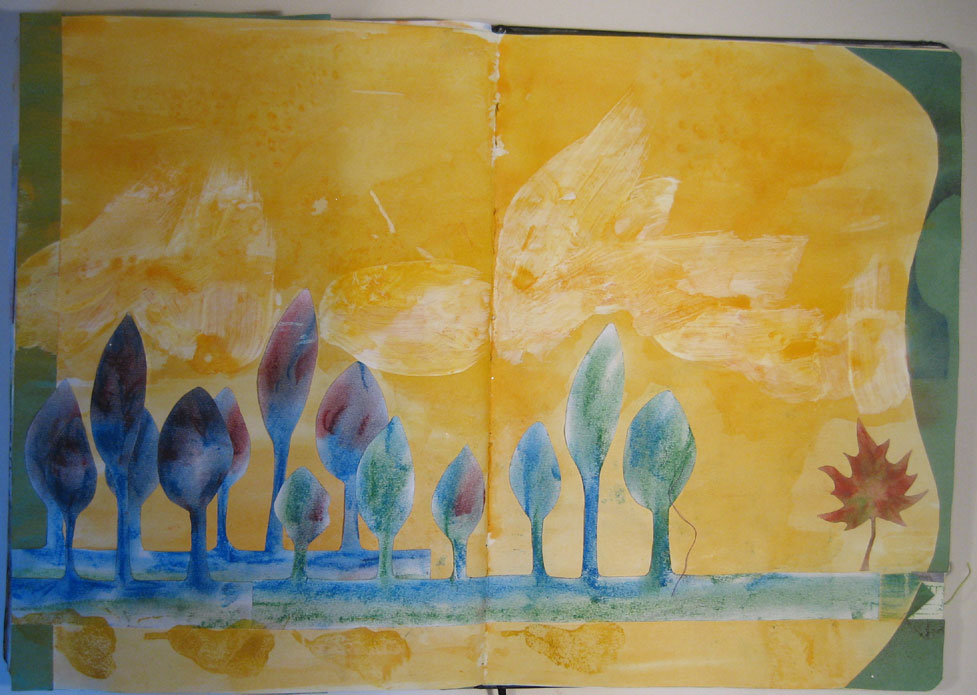 Third page
Blue momoprint of abstracted tree shapes , a photo of tree bark and moss on the right with a drawn tree shape and stencilled leaf. The three leaf shapes over the monoprint are actual skeleton leaves from the garden glued on and covered with acrylic gel medium..  Collaged trees along the border at the bottom.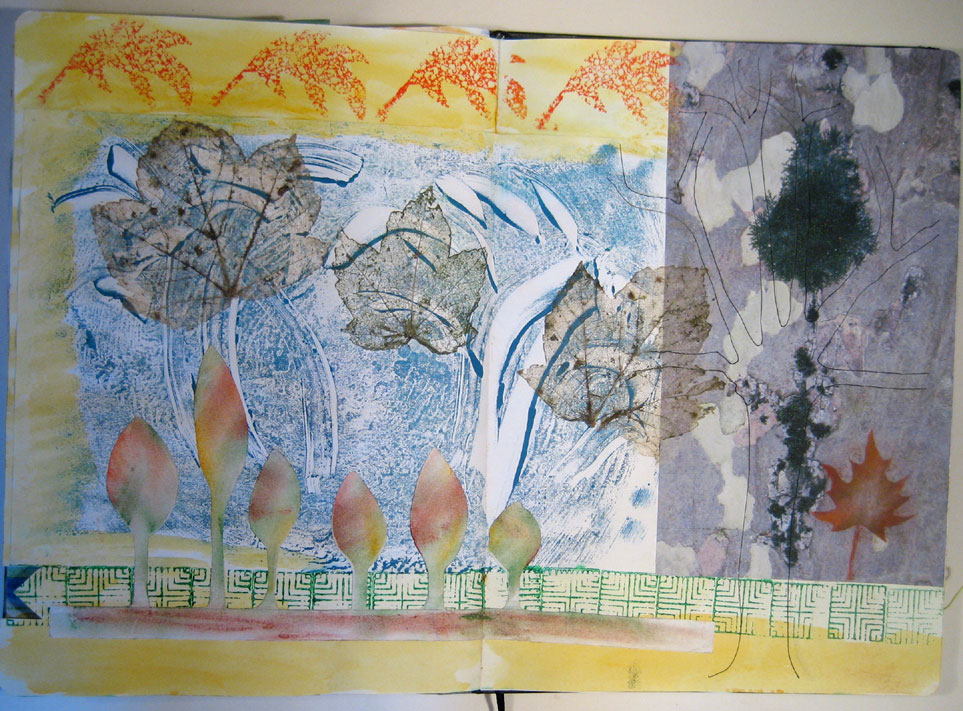 Fourth page
Pastel drawn tree on left hand page, splattered paint leaf shapes.  Monoprint on right hand page and an additional sheet of hand made paper over net stitched to the edge.  There are actual slithers of bark in the paper.  I then printed leaf shapes onto this side and the reverse and trimmed the bottom to but up to the printed block border.  'Oak' is printed throughout.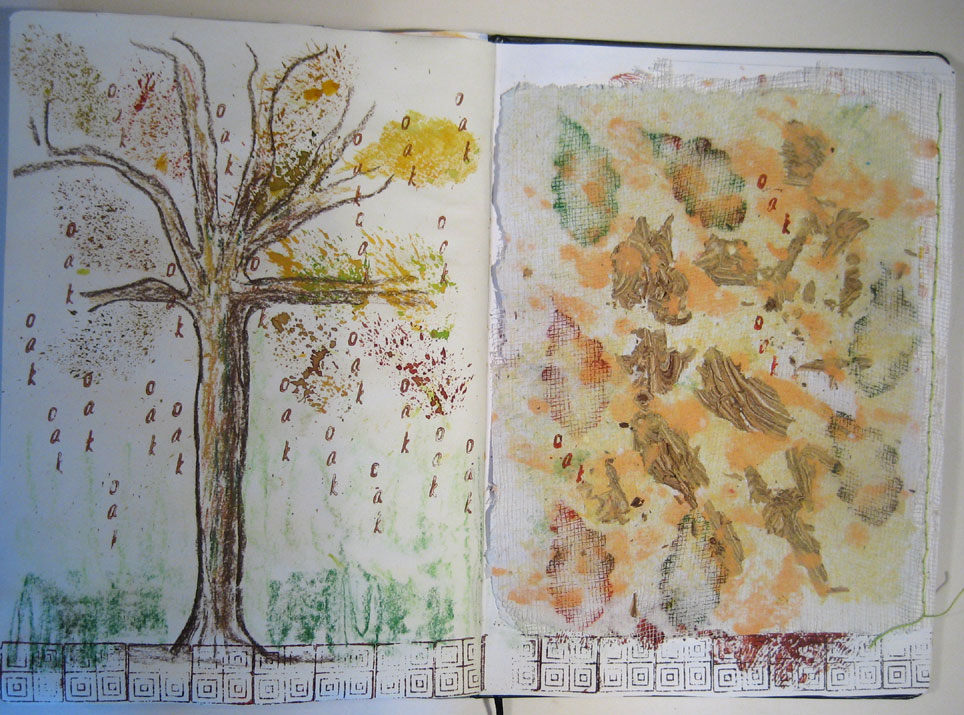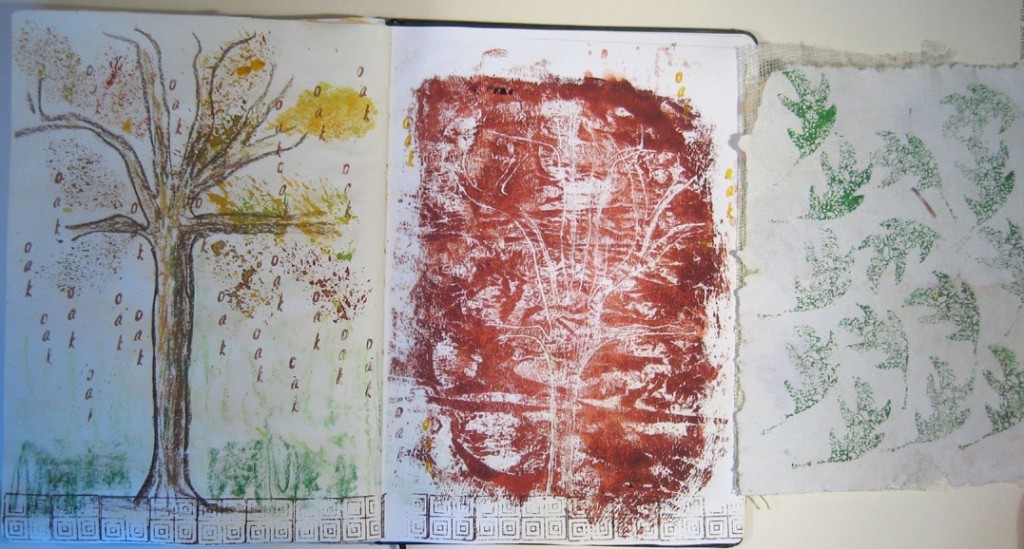 I really like the first three sets of these tree pages.  The final one is the least successful, lacking the depth of the previous work.  I wanted to try pastel but I don't think it has worked very well here.
Concertina book
The covers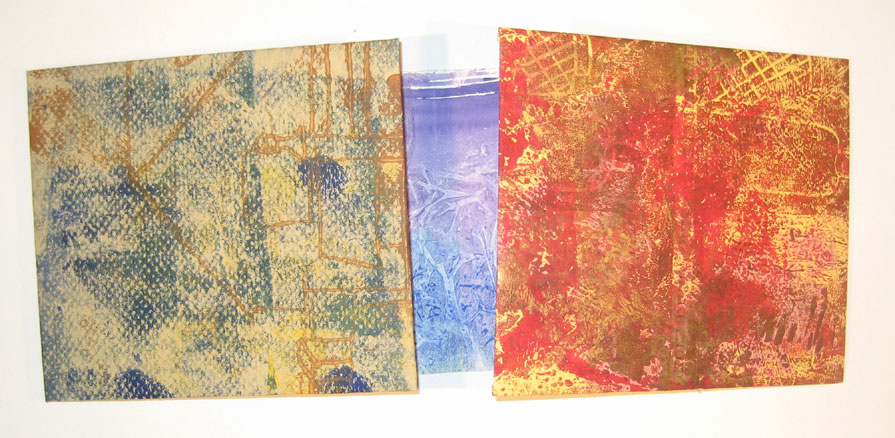 Pages within the book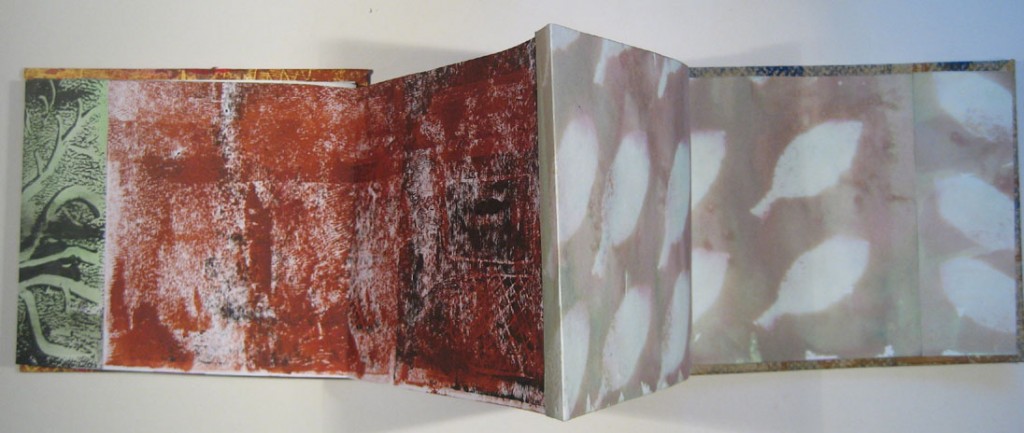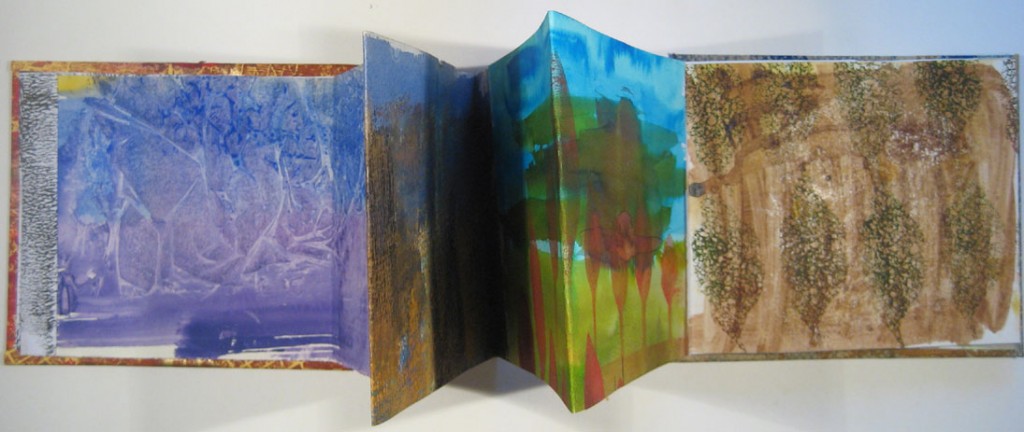 I loved making this book from left over sheets from various experiments.  I need to find ways of adding to it and I'm sure I will make many more books.  I have yet to experiment with sewing the pages together and in general have some more work to doto complete the module.