February 25th
I've been experimenting with shibori dyeing – so far using two methods – either folding fabric lengthways and then twisting around a pole, or tacking a line of stitch and slipping the resulting pocket over a bottle, pushing down the fabric to give tight folds.
I also brushed hot soya wax onto the bottle one, then used a brush to apply Procion dyes.
The first image below is the twisted rope method on fine calico, lemon yellow, golden yellow, turquoise, medium blue.  the second is the waxed method on old sheeting, probably a mix of linen and cotton sheeting which was a pale green in colour. Same colour of dyes.
On this next one which again was the waxed method, I was left with a lot of white areas I didn't like, so I overdyed in the appropriate areas with golden yellow and later added some flour paste which I crackled and painted with black acrylic.  Not totally successful.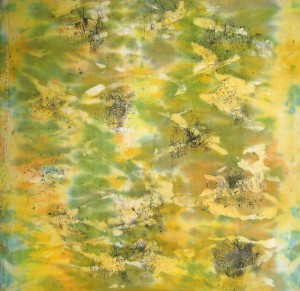 Twisted rope on cotton, fuchsia and turquoise: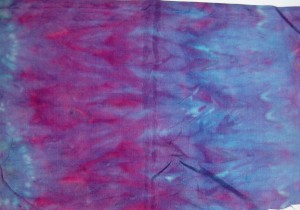 Twisted rope on linen/cotton sheeting,  fuchsia, turquoise and violet navy:
Sleeve over bottle, this time not waxed.  I'm not sure the wax actually  brings anything extra to this method.  fine linen/cotton sheeting:
Twisted cord on rather thick linen sheeting.  Here I twisted too tightly as the dye has not penetrated into the inside areas, leaving a lot of white fabric, golden yellow, bright scarlet, medium blue:
Twisted rope on fine calico, fuchsia, turquoise and violet navy:
Twisted rope on fine calico, bright scarlet and medium blue:
Sleeve on bottle, linen/cotton, no wax,  rust orange, golden yellow, mustard and red brown:
Twisted rope on fine calico, same colours as above, but with addition of violet navy:
This was a piece of rather boring pale orange fabric which I overdyed and then applied flour paste to, scratching into it and crackling it once dry:
Towards the end of last year I experimented with screen printing, something I had done when I was about 20 at evening school, but never since.   In addition, I had never heard of breakdown printing, but it intruigued me.  All fabric was soaked in soda ash and dried before printing.
This screen had ferns pressed into the thickened blue  procion dyes on the screen which were removed  when dry and then printed with red:
Dye was allowed to drip down the screen in various colours.  This time I used uncoloured print paste on the dried screen:
Golden yellow was added to the print paste:
I drew circles of coloured print paste on to the screen and printed several times:
Sequin waste and bubble wrap were pressed into the wet screen, removed once dry:
Same screen, but it was breaking down further.  I then added black dye to bubble wrap and pressed this down on the printed fabric:
The print below was made from two screens, both made from thin interfacing.  the first was painted with acrylic paint, just leaving irregular lines for the thickened dye to print through.  The second used bird shapes cut from freezer paper, ironed on to the interfacing, which, once painted,  were peeled away to reveal shapes to which would print.  Both these screens were taped to the silkscreen before printing.
Here, I obtained the opposite effect by ironing bird shapes directly on to the silk screen so they acted as a resist.  I printed the screen with blue print paste over a  yellow breakdown screened fabric.
Grasses were placed on the fabric directly under the screen.  After the first pass of dyed paste they stuck to the frame and could be printed again: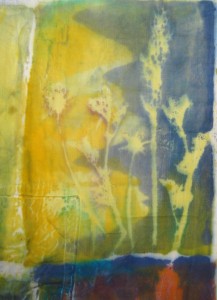 This is part of the sheet I was using as a drop cloth where the dye as created interesting areas to be used for future projects:
I've also been doing some rusting.  Here I wrapped the fabric around wire wool, wetted it with vinegar solution and left it for a couple of days.  I then painted over with fabric paint.
This was blue dyed fabric wrapped around rusty mesh:
After rusting I applied acrylic paint to a pressed dill seedhead and printed it:
I also made a gelatine plate.  The quality of the print is quite unique to this type of printing.
And finally, this is black acrylic paint over flour paste.  I definitely need to experiment more with this, I love the texture and think it has a lot of potential.